Surfing in Cape Town - Infos
"There are three main reasons why surf gets so good in South Africa: good waves; consistent waves; uncrowded waves." (Steven Pike, Surfing in South Africa, S.20).
Surfing is a national sport in South Afrika, everyody does it: young, old, male and female everywhere and all year round. The waves are generally the biggest between april and october. During these wintermonths the swell can become huge. The Red Bull Big Wave Africa Contest is held at a spot near Cape Town at the end of may with a starting height of 18 foot and a waiting period of three weeks. During the sommermonths between november and march the swell is normally a lot smaller and less consistent but still very often superb.There is always a wave running somewhere. From october till november and march till april you have very often good, big but not to chaotic conditions. Striking is that compared to european standards there are less people at one spot and these people are a lot friendlier, localism in a negative sense does not exist in South Africa.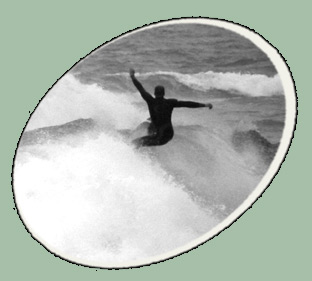 There are many different spots for surfing around Cape Town that offer all kinds of conditions. Beginners as well as advanced surfers find many spot that suits their personal expectations. Big Bay for example has some slow and easy breaking waves that are perfect for beginners and longboarders. Further north between Big Bay and Melkbos you find the "steens". These are spots that are more suitable for advanced surfers and shortboarders. My favorite, Derdesteen, is a 10 min. drive from our lodge and offers superb steep waves that break over sand.
Generally, you find the best conditions early in the morning, before the wind starts blowing between 9am and 10am.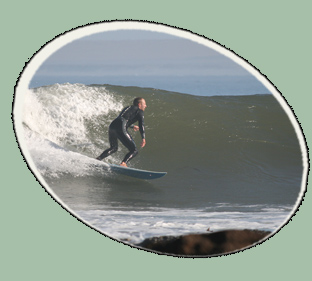 If you are on a surftrip in Cape Town, don´t miss to spend a few days in Elandsbay. Situated near a small and desolete village you find the spot also known as the Jeffreys Bay of the west coast. This perfect breaking left is definetely worth the three hours drive from Cape Town. No need to say that the worldclass spots at the garden route towards Jeffreys Bay are not to miss either.
If want to find out more about surfing in South Africa, there is a good guide written by Steven Pike available at surfshops or under www.wavescape.co.za. South African surfboards (all international brands) are well known for their good quality and superb price. new boards, wetsuits and accesories are sometimes even cheaper than second hand stuff bought in Europe.